The Democratic candidate for Iowa's Fourth Congressional District finished up his campaign stops to all of the towns in Greene County Tuesday.
J.D. Scholten continued on his "Every Town Tour" with stops in Churdan, Paton, Rippey and then a "Drive-In" event in Jefferson Tuesday evening at the former Greene County Middle School parking lot. His goal is to make a campaign stop in all 374 towns in the district ahead of the November general election. Scholten describes the inspiration behind his current tour.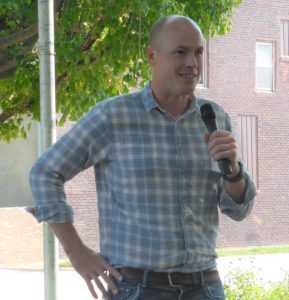 "I didn't hire pollsters to tell me what I should be talking about on the campaign trail, or a consultant, or anything like that, I showed up. If you continually show up, you learn the heartbeat, and the things that are happening in each county, and the needs. It's not about just staying home in Sioux City, and just fundraising, fundraising, fundraising, and then try to win on television. Grassroots gets thrown around alot these days, but we personify what it means to be a grassroots campaign."
Scholten also visited Cooper, Dana, Scranton and Grand Junction on Sunday as part of the "Every Town Tour." Scholten is facing off against Republican challenger Randy Feenstra.